Calling in "The One" is a 7 step coaching program to release your inner obstacles & become magnetic to love.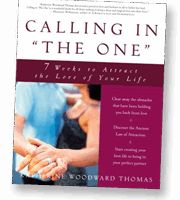 As a certified Coach who has been personally trained and mentored by the author of this ground-breaking work, Katherine Woodward Thomas, Theresa will guide you step by step through this internationally acclaimed program to help you identify and release your inner obstacles to love, evolve beyond the painful patterns of your past and become powerfully magnetic to the right partner for you.
Calling in "The One" is a uniquely powerful approach to finding great love that has helped hundreds of thousands of people attract true love into their lives. Theresa offers Calling in "The One" coaching online via Skype or by telephone.
In just 7 weeks, you will:
Identify, release and transform the false beliefs and painful patterns that have been sabotaging your love life;

Awaken to the truth of your value and your worthiness to receive great love into your life;

Craft a powerful vision of happy, healthy love and begin showing up as a powerful co-creator of the future of love fulfilled in your life;

Learn new skills and tools to help you create a great relationship with "The One" you call into your life; and

Become wildly magnetic to the perfect partner for you.
Calling in "The One" Core Premises
Life is a creative process and our thoughts, beliefs, assumptions, choices, actions and words are the tools we use to invent our experiences and our circumstances.
We have the ability to create circumstances and opportunities in our lives by setting clear intentions and by committing to and living in alignment with these intentions.
When we alter our relationship with ourselves, our external world will alter accordingly.
"Theresa is a wonderful coach with very strong skills in holding crystal clear space and very deep listening for the heart of the issue at hand. She is very deeply grounded, has such a dedicated commitment to truth, and to supporting her clients with deep presence and compassion in moving through obstacles to embody love more fully and completely." – IJ